A Year In Review: EQNX in 2020
Posted by Tanner Hinders on


At the start of 2020, EQNX was ready for the team's biggest year yet. New signings to bolster both the player roster and support staff put the team in a position for success across the world. While the success did appear early on, the arrival of COVID-19 shut down events and quickly left the team confused on our direction for the year. That did not last long, as the dedication and hard work from everyone on EQNX made 2020 the team's most impactful and exciting year yet.
While we look forward to the return of events and seeing everyone in-person once it is safe, it is time to look back at some of our favorite moments from the last year.
Online Events
Without in-person tournaments to compete in, Cuddle_Core wanted her own way to watch good Tekken. This led to the creation of the Cuddle Circuit. One national and three regional tournaments held monthly during spring and summer to allow for high-level Tekken competition online. Each event was full of exciting matches and skillful displays, helping Cuddle reach her monthly quota for good Tekken. Every event also raised over $300 for the prize pot on Matcherino to award the players for their success.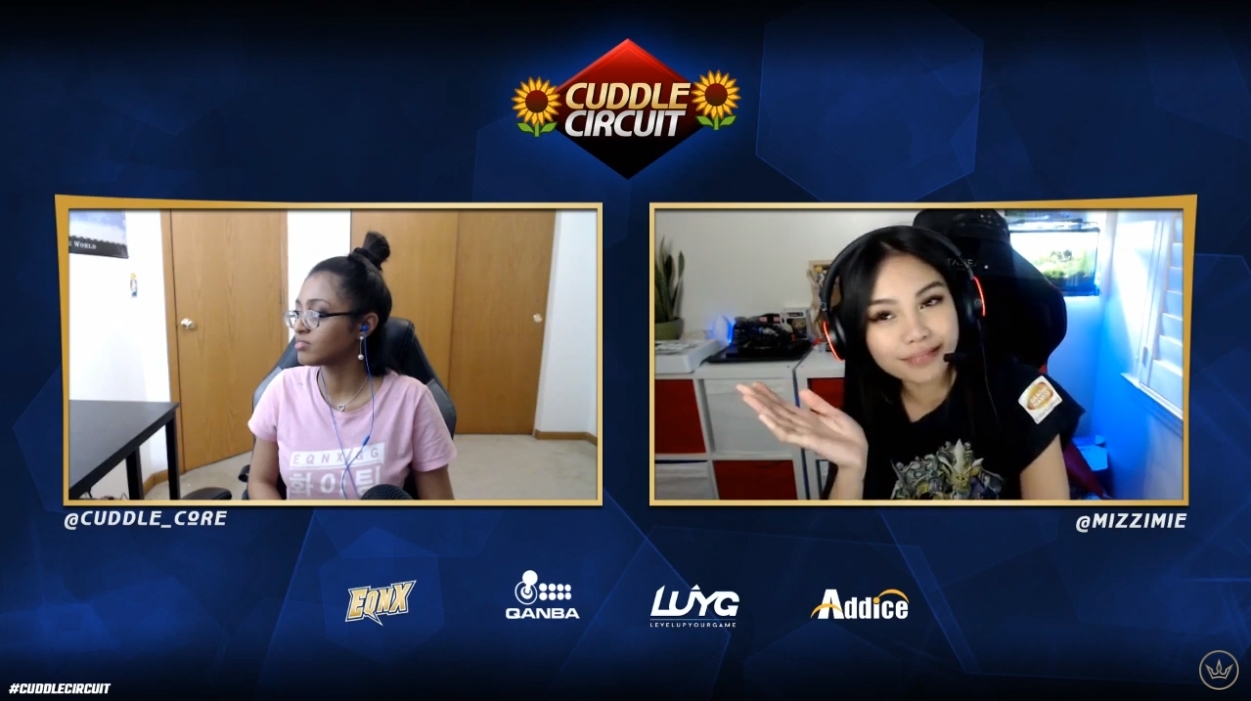 The other major online tournament run by EQNX was the 5v5 last chance qualifier. Reminiscent of the original Tekken 7 LCQ, we ran three back-to-back tournaments in one day to allow three community competitors a chance to compete in the 5v5 championships on one of the pro teams. While it was a long day of Tekken, the pay off was well worth it giving Kaizur, Glaciating, and Suiken a chance to join Team Shadow, Team Cuddle, and Team Anakin, respectively.
Giving Back to the Community
One of EQNX's crowning achievements of 2020 is raising over $20,000 during the year for multiple charities. This included events like KO Cancer and the 5v5 team championship circuit. Of course, these events were successful due to the overwhelming support of the community and competitors that joined the events.
In May, KO Cancer was announced as a single day online tournament in both TEKKEN 7 and Street Fighter V. To ensure that online connections would remain stable, the event was region locked to the east coast. However, after many requests, an extra tournament per game was added so that western players could participate as well. Four tournaments in one day, two streams, and many pink costumes turned the event into a resounding success raising over $11,517.35 for The Breast Cancer Research Foundation.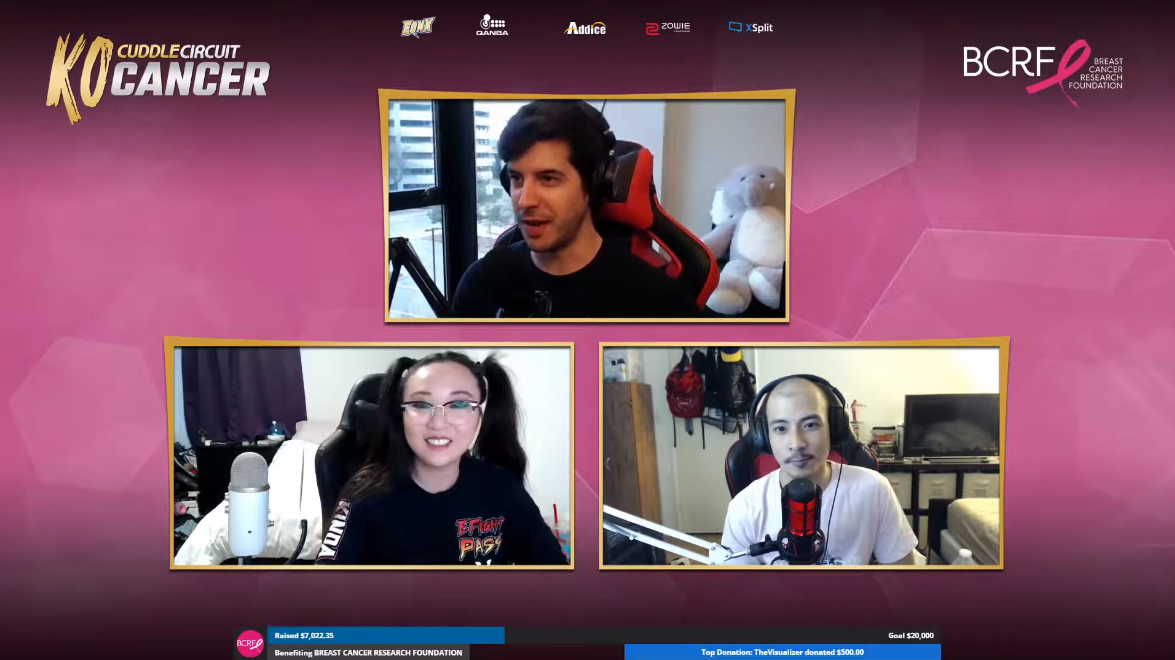 From July through the end of the year, EQNX held 5v5 team matches in support of various charities such as Physicians for Human Rights and the NAACP Foundation. The first event saw Cuddle_Core and Joey Fury lead teams with Team FURY taking the victory despite a valiant effort by Shadow 20z and his teammates on Team CORE. After the event, Joey received a challenge from an Atlanta team led by Anakin. In FURYvsATL, Joey's team once again emerged victoriously.
The end of the year culminated with the EQNX Championship brought in part by Qanba USA, Addice Inc., Kinda Fit Kinda Fat Apparel, Esports Tiger, and new event partners ASTRO Gaming, GT Omega Racing, and Dezctop. Cuddle_Core, Joey Fury, Anakin, and new challenger Shadow 20z joined the 5v5 TEKKEN 7 team tournament taking place on December 12. Good Tekken ruled the day, but Team Shadow fought for a close victory with Team Cuddle close behind in second.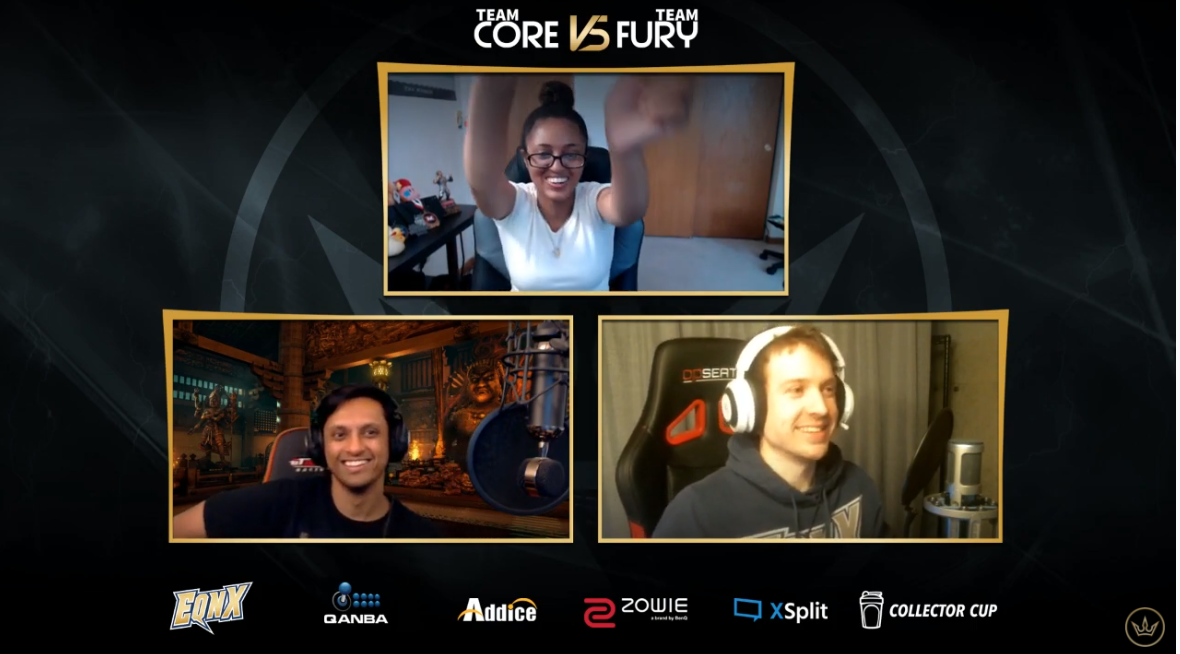 The event was in partnership with Gamers Outreach Foundation, a 501(c)(3) charity organization that provides equipment, technology, and gaming software to help kids cope with treatment in hospitals. Both teams were able to choose a hospital for a GO Kart to be donated to after the campaign had raised over $8330.35.
"What I am most proud of, besides staying the course and continuing to grow EQNX each year with awesome folks, is raising $21,620.38 plus in 2020 alone for charitable organizations through the power of Fighting Games," said Emily Tran, EQNX Co-founder and CEO. "We were so blown away by the repeated generosity of the FGC, especially during one of the most difficult years of our lifetime. People want to help, people want to get involved. Words can't describe the feeling of rallying together a community we love so much to help those in need."
Donation Breakdown By Charity:
Breast Cancer Research Foundation: $11,517.35
Physicians for Human Rights: $730.00
NAACP Foundation: $340.00
Habitat for Humanity: $200.00
Children's Literacy Initiative: $502.68
Gamers Outreach: $8,330.35
Total: $21,620.38
EQNX Newcomers
EQNX welcomed multiple new competitors and streamers this year. The first player signing of the year came right before EVO Japan when Ulsan joined the EQNX Tekken roster. Ulsan was joined by another young Korean player when Eyemusican signed in August. In Japan, Masa joined EQNX in the spring as part of a partnership with LUYG. Trungy joined EQNX as our head analyst to assist the American Tekken competitors. To round out competitive signings, in November, Aoyama officially joined as JP team manager.


"2020 was a very meaningful year for me because I finally became a professional gamer. In January 2020, I was just an amateur player striving to become a professional. I was just a player who had never won an individual match. The big turning point for me was when I won the 'eSports MaX GAMING FESTIVAL' tournament held at Ikebukuro Sunshine City on January 4th. I was also a finalist at EVO Japan, finishing 7th place overall. With my results gaining international attention, I decided to join EQNX and Level Up Your Game in March." - Masa (4Gamers Interview)



"Until 2020, I was just playing to improve my Tekken skills. But in addition to playing the game, I challenged myself to try new things in gaming such as hosting tournaments and events with my friends and streaming them. During this time, Emily (CEO of EQNX) asked me to work as manager of EQNX Japan as Jyotaro and Masa are on the same team. I am now an official member of EQNX. So, my involvement with Tekken has changed dramatically this year." - Aoyama
EyeMusician and ULSAN at T.E.N. x Dynamic Busan team event


The stream team's first addition came in May when keekeexbabyy joined at the start of the KO Cancer campaign. In August, both Flexiss and Mia became members of the EQNX family. Flexiss came in as a Street Fighter streamer but found a footing as a great commentator this year as well. Mia is an FPS stream from Japan that streams in Japanese, Korean, and English. The most recent streamer to join EQNX is Curiousjoi, who splits her stream time between various JRPGs and Fighting Games.
When asked about her favorite thing about being part of EQNX in 2020, Flexiss said, "The sense of inclusiveness I felt, having an entire team invest so much into me and help build me up to be the best version of myself."
Everyone that joined the team this year has been a great addition to the family, and we can't wait to see how they continue to grow on the team.
Team & Partner News
Streamers and competitors were not the only folks welcomed to the EQNX family as we forged exciting new partnerships in 2020. Early spring, we partnered with Level Up Your Game to co-sponsor Masa as content creator and TEKKEN 7 player. We went on to boost our streaming technology, content creation, and esports equipment (monitors, peripherals, etc.) by teaming up with XSplit and ZOWIE BenQ. 

In May, EQNX announced an official partnership with Matcherino to crowdfund our online competitions, going on to raise a total of $3,794.63 on the platform this year.


Outside of partnership news, in November, EQNX was nominated for five TheGameHers Awards including Most Inclusive Team, Charity Team Raised Funds, Top Player of the Year (Cuddle_Core), Shoutcaster of the Year (Romanova), and Team Lead of the Year (NyxRose), becoming finalists in three categories before going on to win The Most Inclusive Team Award during the live broadcast finale.
"We were so honored to just be nominated, so to win was a welcome surprise. This award means a lot to EQNX because it's a validation that we're doing the right thing and we're making a positive impact on the gaming community as a whole. We didn't set out to create the most inclusive or most diverse team. We focused on creating a work environment that uplifts, supports, empowers individuals no matter their background. Whether they're an intern or a world champion, everyone on this team is valuable. This wouldn't have been possible without our people." - Emily Tran (TheGameHers Acceptance Speech)
EQNX helped host the "
Dealing with Fighting Words in the Fighting Game Community
" panel to help raise money with AnyKey for the Games and Online Harassment Hotline. Special guest speakers included prominent women in the FGC such as SMGxPRINCESS, Flexiss, Romanova, Sherryjenix, and Professor High Kick.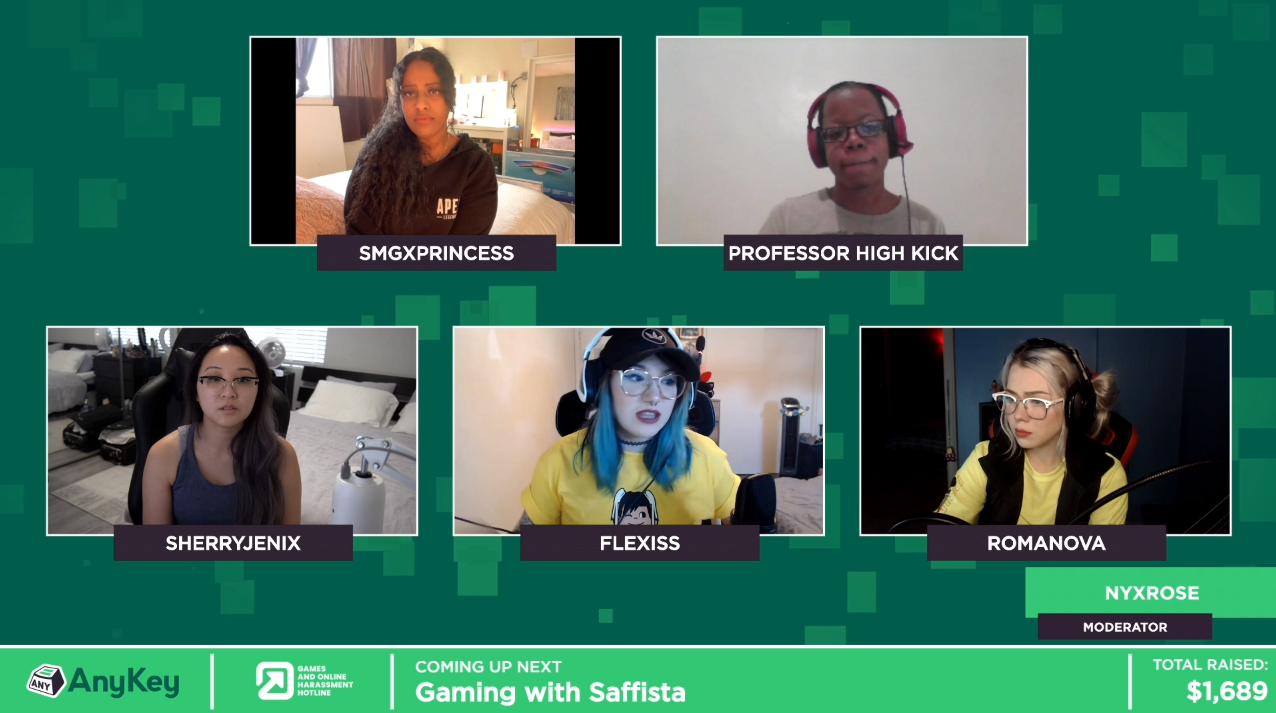 Competitors
The EQNX competitors also found ways to take advantage of changes to competition in 2020. Brian_F kicked off the year with a 5th place finish at Frosty Faustings. After events moved online, Brian participated consistently in NLBC Online weeklies, usually placing in top eight. Another top placing for Brian was his 7th place finish in Capcom Pro Tour 2020 North America East 1. He also continued creating on YouTube and Twitch to help improve diversity in FGC content.
Brian_F said, "While 2020 threw all of my competitive plans for the year out of the picture, it did present a new opportunity. Without spending a large portion of my time traveling to events and competing, I was able to re-focus on creating Street Fighter related and general fighting game content. I was able to grow my YouTube channel from 9,000 to almost 30,000 subs and produce content that encouraged many people to pick up, play, and enjoy fighting games. My biggest accomplishment is helping people have fun with these games."
Joey Fury and Cuddle_Core continued to prove themselves as some of the best Tekken players in North America in online events. Joey and Cuddle combined for three of five Bud Light Beer League Tekken East wins, qualifying both for the top four championship at the end of the season. The two also placed highly in WSOE Online II with Cuddle placing second and Joey close behind in third. Joey Fury showed his skills in multiple locals throughout the year winning multiple NYC Tekken and ChiTek weeklies. Cuddle_Core became the first Tekken God Omega in North America following the game's ranked changes.
"My favorite accomplishment this year was embracing the shift to online exclusive competitions and generating a strong level of consistency in my placings. Despite online not being the "purest" form of the game, I feel I have stayed passionate and have continued to improve as a player. I am probably most proud of one specific 1st place victory against Shadow in the ChiTek series, simply because he is such an incredibly talented player and it felt like such a hard fought win for me. I gave everything I had to narrowly win. I've learned a lot from my losses to him this year as well. I'm grateful that a competitor like him exists," said Joey Fury.
In Japan, Jyotaro and Masa represented EQNX well in a variety of leagues and tournaments. Masa placed second with Jyotaro following at fifth place in Team YAMASA x eSports Stars Cup. Masa won the "FUJIN.1" Mishima Style JAPAN CUP qualifier in October and Jyotaro secured fourth in the TEKKEN 7 Online Challenge Japan in December. Both found team success at YAMADA CUP, winning the 5v5 exhibition with Team Rangchu and finishing second in the same character 3-on-3 tournament as part of LeroyJapan with Rangchu. Finally, Masa brought back his famous #1day1tips this year!


Ulsan started his year with EQNX off strong with a fourth-place finish at EVO Japan. He also won the AfreecaTV TEKKEN 7 League Season 2 as well as winnings multiple days during season two and three. Eyemusician won LVUP One Tekken #18 and placed third in Tekken Online Challenge Korea. As a team, Ulsan and Eyemusician won the T.E.N x Dynamic Busan Team Battle Tournament over UYU, ROX, and Afreeca Freecs.


There is no denying that 2020 was a tough year for the FGC. However, by working together to support good causes and competing online, we were able to make it a little better. We cannot wait to show you what we have prepared for 2021, but until then, stay safe and never stop fighting.

Keep up with EQNX:
Team partners:
---
Share this post
---
---
---
0 comment